Stanborough Park Church's Annual Toy Service
In times of uncertainty it is reassuring to find some long-established traditions continuing. One of these is the Annual Toy Service at Stanborough Park Church which takes place every year just before Christmas and 2011, astonishingly, saw its golden jubilee.


Back in 1961 big-hearted church member Alf Kelly, whose tireless work for the local community was acknowledge with the award of an MBE in 1996, was sufficiently concerned that local children were missing out at Christmas time because their parents were unable to afford presents for them that he set about doing something to rectify the situation.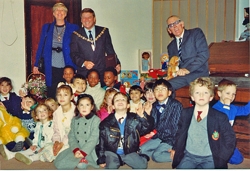 Having heard about the Toy Services held at the Ealing Church he investigated the possibility of setting up something along similar lines at Stanborough Park. Obtaining Church Board approval Alf persuaded the members to enter into the true spirit of Christmas and donate toys for local needy children. Year-by-year Alf would decorate the church, displaying the toys and prominently featuring a gigantic Christmas tree donated by the local timber yard covered with monetary donations. He would also organise a special service on Sabbath morning a couple of weeks before Christmas to which the Mayor of Watford was invited – and usually attended thanking the members for their generosity towards the children of the borough.

Through his charity work, Alf knew where the local hardship cases were and usually distributed the toys himself before Christmas, often dressed for the part as Father Christmas. This was the part that he enjoyed most of all.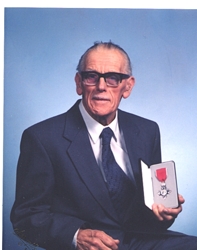 This tradition, once established, has continued every year since 1961. Following Alf's death in 1996 the service has been organised by his daughter Pat Walton who follows the same format and presents the toys herself to the Mayor of Watford. It is the longest running Toy Service in the Adventist church and is now the only event of its kind in Watford – the other events having fallen by the wayside – thanks to Pat's determination to keep the event going as it was so dear to her father's heart. However, as an acknowledgement to changing times both the elected Mayor and Council Chair usually attend the event and the toys are distributed by professionals such as social workers, health visitors, staff at the local Surestart Children's Centre, the Watford Women's Refuge the local branch of the Refugee Council and the local Children's Centre.

In recent years when times were better it has been tempting to think that perhaps there was no longer a need for such an event but Pat is very much aware of local needs through her own voluntary work and has always been certain that the event was very important for local families.


"Vicky Attarzadeh, the former Manager of the Berrygrove Children's Centre just a stones throw from the church supported this view and wrote:
The Toy Service is a service which is extremely valued by the families who have benefited from it. Families who have very little are always extremely grateful for the gifts they receive to give to their children at Christmas. For some, it means the difference between the child receiving a present and having nothing. Also, some of our young parents have appreciated gifts such as pyjamas, cosmetics and food parcels. This makes a huge difference to these families, who otherwise have a very bleak time when everyone else is celebrating. Parents have said that they like to have something that they can wrap themselves.


These families are very isolated and do not have the benefit of support from extended family. Receiving support from the Toy Service definitely makes a huge difference to their enjoyment of, and participation in, Christmas celebrations. All the families whose names have been put forward by the Children's Centre have been asked in advance and have been very grateful for being though of.

We are very appreciative of this brilliant service which we are able to offer to families as we know it makes a huge difference for them. Thank you for the help and support you offer to local families."
This year the Toy Service will take place on 12th December and it is to be hoped that members will still be able to give generously even in these more straightened times when the need is so much greater. Alf would have been pleased that this event is still continuing more than fifty years later although he would probably be a little disappointed that it is still necessary.