CAP Money Course Commencing at the Church in the New Year
For those facing a problem balancing the books after Christmas help will be at hand with a CAP Money Course starting at the church in the new year.

The CAP Money Course is a revolutionary money management course that teaches people budgeting skills and a simple, cash-based system that really works. In just a few weeks, participants will get to grips with their finances showing them how to budget, save and prevent debt.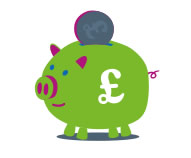 The CAP Money system provides a practical way of sticking to budgets. It uses three accounts to ensure that income goes towards those things actually planned for in budgets. Whether participants feel pretty organised or it's like a lucky dip every time they try to withdraw cash from their account the CAP Money Course will help them take complete control of their finances so that they can save, give and prevent debt.

The course is devised by the award winning debt counselling charity, Christians Against Poverty. More information on the system can be found on the CAP web site at: https://capuk.org/i-want-help/cap-money-course/introduction.

A CAP Money Course will be held at Stanborough Park Church on January 10th, 17th and 31st between 11am- 1pm and will be run by Pam Coleman and Monica Daley Campbell.

Further details can be obtained by contacting Pastor Mary Barratt email: mbarrett@secadventist.org.uk Mobile: 07961777446