Annual Toy Service providing toys for needy local children at Christmas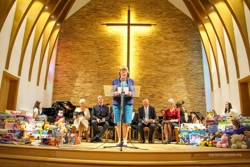 The Annual Toy Service providing donated toys for needy local children was held at Stanborough Park Seventh-day Adventist Church on Saturday morning. As usual the Mayor of Watford, Baroness Dorothy Thornhill, accepting the toys on behalf of the citizens of Watford stated that for her the Christmas season began with attending this service.

For the event's regular organiser, Pat Walton, it was the 20th time she has masterminded the Toy Service since taking it over following the death of her father, Alf Kelly MBE, who instigated the annual event more than half a century ago. This year has been particularly challenging to organise, more so than last year when the event was staged in a marquee during the church's recent redevelopment. Pat and her helpers found that there were a lot of teething problems fitting the traditional massed display format into a curved open stage which had to house a platform party, orchestra and a grand piano in addition to the donated toys.

Thankfully, her team of helpers rose to the challenge with Chelsea Gold Medal winner Audrey Balderstone demonstrating that her talents extend beyond flower arranging! But with no large Christmas tree providing the usual focal point and the need to adapt to other requirements for the service the display was spread into several smaller exhibits which reduced the normal impact implying there were fewer toys donated this year.


Not so according to Pat who insists there were as many as usual and was delighted that so many toys will be going to good homes. "They will go into homes that need them I can assure you of that," she said. She was particularly pleased that people had responded to her request to provide toys and games suitable for older children this year.

Representatives from local good causes such as the Berrygrove Children's Centre and the WTRRP attended the service ready to collect toys and take them away. Those from the Watford and Three Rivers Refugee Partnership in particular were keen to send representatives saying, "Last year our families were thrilled to receive toys that came through that service's generosity. There is another story but you were also an answer to prayer as otherwise, the families would not have had a substantial Christmas present as we have tried to ensure every other year. We would like to organise volunteers to attend as we did so enjoyably last year."


The volunteers from the WTRRP were particularly pleased with the quality of toys on offer as they quickly filled several bin liners with the items on display explaining how so many of their clients normally felt left out at Christmas. They were also very impressed with the quality of music provided especially by teenager Amy Cornwall who sang a very impressive solo demonstrating a 'God-given talent' as the Mayor referred to it.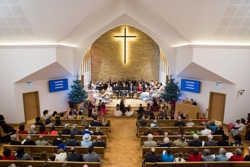 The Chairman of Christians Across Watford, Pastor Tim Roberts, attended the event for the first time and gave the scripture reading and Stanborough Park Church's Senior Pastor Jacques Venter gave the sermon stressing how we need to be an example to the children in encouraging them to live Christ-centred lives.

At the end of the service the unclaimed toys were bundled up to await collection by other local good causes.

Toy service 2015 photo album.