Connect Team hosts Barn Dance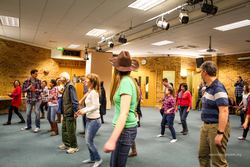 The Connect Team is a new church department created in response to the continuing growth in numbers of the congregation. In such a large church it is easy to become overlooked and isolated and the team was created as part of a concerted effort to continue to foster an atmosphere of allowing attendees to feel welcome and engaged in church life.

To foster this the team of nine, led by Pat Walton, are not only dedicating their time on Sabbath to make attendees feel welcome but are also implementing and maintaining a system whereby they can invite or connect them to ministries in addition to keeping track of new and young attendees.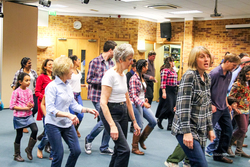 Another role of the Connect Team is to create and maintain a church social programme which includes running 'Connect Days'. One such social event was held on the evening of 5th March when 51 people aged from 3 to 88 (Ed Hammond, no less!) gathered in the Cedar/Sycamore Room to enjoy one of the church's regular 'Barn Dances'.

According to organiser, Pat Walton, the evening 'went very well' and 'haystacks followed by ice cream and cake were served as refreshment during the evening. Plenty of drinks were available' to quench the thirsts of those expending their energy participating in the dances.