Reg stands down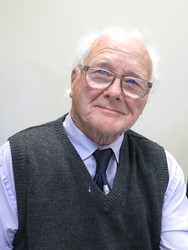 The new year is always a popular time for implementing life-changing decisions and last January has proved such a time for Reg Mayes, Stanborough Park Church's oldest serving deacon who retired from his post after around quarter of a century at the age of 92. During that time he has undertaken his duties faithfully and has been described by fellow long-standing deacon, Denver Annable, as "Always friendly, knowledgeable and willing to help."

Reg's retirement has not been entirely without some regret. Unfortunately, he has lost dexterity in his hands and can no longer hold the offering plate steady so he felt that as he can no longer do his job efficiently then perhaps it was time to stand back and let others do the work. However, he maintains that he is always willing to help saying, 'While I'm wanted I will do it."

Reg, a retired builder, started his working life in a boat yard in Leigh-on-Sea in Essex. During the war his occupation meant that he was exempt from military service and spent those years in the London docks building motor torpedo boats and lifeboats for the air/sea rescue service.

Eventually Reg moved to the Watford area, building his home in Abbots Langley (which took 3½ years) where, despite his distance from the coast, his love of the sea continued and sailing became a regular pastime. He facilitated this by building his own boat called 'Set Fair' in his front garden which he sailed regularly on the south coast towing it there behind his Range Rover. However, after his wife died he says he felt lost in his 29 foot boat and with his insurance company refusing to continue insuring him to tow it he decided to replace it with a something smaller. This turned out to be a 23 foot speed boat which he named 'Set Fair 2' and constructed in his garage. He still sails in it regularly from Cobbs Quay in Poole Harbour but this time as a passenger with his daughter Susie, who lives in Swanage, at the helm.

Reg's dreams briefly soared above the ocean. After a local flight paid for by his daughters he decided to build his own plane from a kit and obtain his pilot's licence. Unfortunately, he had to relinquish that dream as he was unable to master stalls which is a rather crucial skill for survival! However, he hasn't lost his love of flight and travels each year to New Zealand to visit one of his four daughters.