Two new elders ordained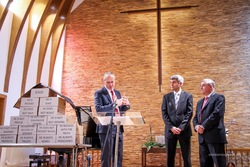 Stanborough Park Church has appointed three new elders to serve the church for 2015-2017 period. Two of them, Alain Fidelia (on the right) and Etienne Guenin (on the left), were ordained during the combined worship service on 5th March.
Alain is the eldest of four children and grew up at Stanborough Park Church as did his mother, the former Valerie Westwood, whose parents, Cliff and Mary, were heavily involved in church life with Head Deacon and Head Deaconess amongst their respective roles. Alain's father is the late Pastor Roland Fidelia , who died in 2006, and hailed from Mauritius. He was heavily involved in the publishing work in this country before taking up a position in Cyprus as the Communications Director for the Middle East Division.
Alain is Managing Director of a company based in Watford. Alain has been very involved in church departments for many years before being invited to take up his new role as has his wife, Carol, and daughter, Charlotte.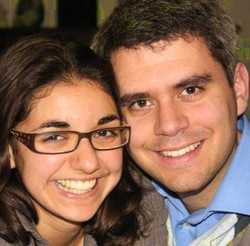 Etienne, a native Frenchman with Swiss connections, returned last summer after spending a year working with Adventist Frontier Missions in Benin alongside wife, Carolyn, the granddaughter of Pastor Arthur Cooper. Whilst there he was able to put his IT skills to good use and Carolyn taught English at a local school. Carolyn's mother Lorraine, nee Vitry, is a native French speaker originally from Mauritius so the couple felt quite at home in a French-speaking country. Both have been active workers for the church in Britain as well.