Stanborough Park Hosts Annual Christmas Picture Competition Award Ceremony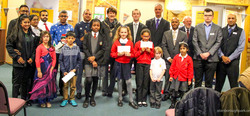 Excited children along with their parents and teachers attended a prize-giving event at the Stanborough Centre on Monday, 14th December, each one hoping that his or her entry had been selected as a winner in the Co-operative Food Stores Annual Christmas Theme Picture Competition for local schools.
Children from four primary schools and one secondary school stretching from Watford to Hemel Hempstead entered their designs into the annual competition which was being held in the area for the third time.
The criteria for the entries was that they should be a Christmas scene in any medium chosen by the children - paint/crayon/poster/collage - and were not to include any computer work or enhancement. There two categories: 4-7 years old and 8-11 years each with three winners. For the first time there was also a category for secondary school pupils, however, only Watford Girls' Grammar School submitted entries in this category.
Competition entries were displayed on the walls and the sponsors Co-operative Food Stores provided a judge, the third judge was a retired Stanborough School art teacher, John Butters.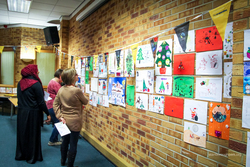 The judges admitted that it was a hard job choosing the winners. They took into account the input from parents, teachers etc and originality when choosing the winners as well as keeping to the Christmas theme and size specified and the construction and thought that went into the production of each entry.
The prizes were awarded by Cllr. Kareen Hastrick, Chairman of Watford Borough Council who told everyone that "Watford Borough Council is delighted to support this event." The schools attended by the main prize winners also received a cheque from Pastor Paul Clee, Stanborough Park Church's previous minister, who was standing in at short notice for current Senior Pastor Jacques Venter.
Co-operative Food Stores Area Managers Darren Aldridge and Gavin Jones spoke of the Co-operative movement's history of being part of the community explaining how it has campaigned for a better society and its current connections with the Red Cross dealing with the lonely and isolated and helping to reconnect them to their local communities.