Children perform in concert to raise funds for ADRA annual appeal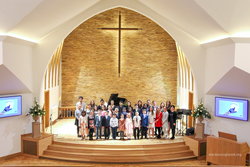 Children wanting to help support other children less fortunate than themselves performed in a concert at the church in aid of the annual ADRA appeal on 12th March. This is the fifth time that they have done this and this year, as there are more children wanting to take part, they are also performing in a second concert to be held at the end of the appeal on 9th April.

Thirty children aged from 6-17 performed at the first concert on a variety of instruments including piano, violin and flute, mostly as soloists but also as piano duets and a violin quartet. One 16-year-old pianist even played his own composition.

About half of the performers are students of the Stanborough College of Music based at the church and approximately 65% come from families of church members. They were joined for the occasion by the Stanborough Park Church Junior Choir which has an age range of 6-17 and performed two songs.

The performance standard was high and the event raised £453.97 in the form of a collection taken up showing that their efforts were much appreciated by the large audience who attended. In addition to this sum all the children taking part have been sponsored so the final amount raised by them will not be known until the end of April when all the money has been handed in.