Three new elders ordained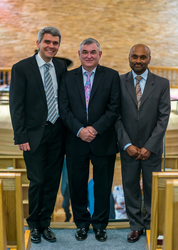 Stanborough Park Church has appointed three new elders to serve the church for 2015-2017 period. Two of them, Alain Fidelia and Etienne Guenin, were ordained during the combined worship service on 5th March.

Alain is the eldest of four children and grew up at Stanborough Park Church as did his mother, the former Valerie Westwood, whose parents, Cliff and Mary, were heavily involved in church life; his father is the late Pastor Roland Fidelia . Alain is Managing Director of a company based in Watford. He has been very involved in church departments for many years before being invited to take up his new role as has his wife, Carol, and daughter, Charlotte.

Etienne, a native Frenchman, returned last summer after spending a year working with Adventist Frontier Missions in Benin alongside wife, Carolyn, daughter of long-time members John and Lorraine Cooper and the granddaughter of Pastor Arthur Cooper. Whilst there he was able to put his IT skills to good use and Carolyn taught English at a local school. Carolyn's mother is a native French speaker so the couple felt quite at home in a French-speaking country. Both have been active workers for the church in Britain as well and are currently heavily involved in organising the church's Life Groups.

The third elder is Steven Moser who was ordained earlier this summer. Steven comes from a medical family and like his parents, Eric and Susie Moser, trained as a doctor. He is a consultant in clinical radiology practising at four London locations. A father of five his second daughter, Anjali, has continued the family's caring tradition and has, alongside her mother and older sister, undertaken charity challenges including raising over £5000 for a cancer charity in 2014 by shaving her head.