Audrey plans an 'Open Garden' event at her Bedmond home to raise funds for The Peace Hospice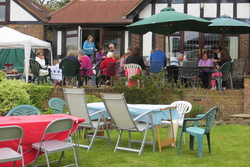 The Peace Hospice has long held a special place in Audrey Balderstone's heart, probably even more so following the death of her husband, so it comes as no surprise that as a veteran fund-raiser for many causes this one is high on her list for action.

The Peace Hospice in central Watford celebrates its 25th anniversary this year and many years ago (1996?) Audrey organised a flower festival at Stanborough Park Church to raise funds to furnish one of its rooms which became known as 'The Stanborough Room' and says we 'have been paying towards its upkeep ever since.'

Audrey finds different ways to raise funds to enable this, adding, "We usually try to raise £1,000.00 each year to keep the Stanborough Room going." One way she does this is by donating the proceeds of work done as an organiser of flower festivals and Gold Medal Winner flower arranger (Chelsea Flower Show 2015).

This year she will once again be opening her large garden in Bedmond to the public on Sunday, 18th September between 2-5pm. It was laid out by her late husband, David, a landscape gardener and allowing others to view it is her tribute to him as well as raising funds for a good cause.

Cream teas will be served on the terrace and there will be stalls scattered around the garden selling a variety of things.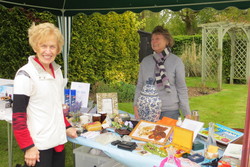 Further details can be found in the church bulletin or by contacting Audrey directly by email: Audrey Balderstone.