Raising funds for Watford Hospice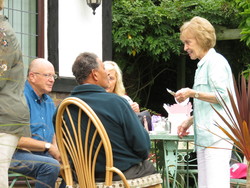 Church member Audrey Balderstone held an 'Open Garden' event at her Bedmond home on Sunday 18th September raising over £1,000 for the Peace Hospice iin Watford. Audrey has been a long-term supporter of the hospice and was keen to do something special to celebrate its 25th anniversary. Many years ago she organised a Flower Festival at the church to sponsor a room there known at 'The Stanborough Room' and has actively supported the cause ever since raising the necessary money to maintain its sponsorship each year through various activities.

This is not the first time she has opened her garden to the public for charity; it was originally designed and established by her late husband, David, who was the owner of a landscape gardening business and opening it to public is a form of tribute to him as well as a method of raising money for good causes.

With a team of helpers supplying cream teas and stalls ranging from second hand clothes and bric-a-brac, plants, cakes and books there was plenty to occupy the 119 visitors in addition to enjoying the well-stocked, weed-free garden with its immaculate lawn. "After the deluge on Friday and rain on Saturday I was afraid the garden would be too wet, but it dried out and we were even blessed with sunshine!", Audrey remarked after the event.

" The afternoon went fantastically well - better than I ever envisaged!" she continued. "We had 119 visitors and we raised £1,064.95. That has been augmented with donations from people who could not attend and the total is now £1,080.00. Most people came between 2 and 3.30pm and we had to rush around putting up extra tables and finding extra chairs. It was less manic after that, but still very busy. All of the food was donated so every penny raised will go to Peace Hospice Care. The result made the days of preparation and hard work on the day very worthwhile."

Recognising the contributions she had from others which helped to make the event such a success she added, "I am so grateful to all those who made the scones and cakes, who donated cakes to the stall; for all the goods donated and for all those who manned the stalls and for those who came from far and wide to support the event. Also, to my family and friends who gave of their time unstintingly to help and support, especially those working hard in the kitchen and the cheerful waitresses."

In addition to this there was a £500 donation as a result of Audrey, a Chelsea Flower Show Gold Medal winning flower arranger (2015), organising the flowers for an event earlier in the year. This brings the total to £1,580 for the Hospice.

View more photos of the event.