Annual Harvest Festival
The Family Service on Sabbath 2nd October was quite an eventful one as not only was it the date of the annual Harvest Festival but also saw a presentation to retiring Church Treasurer Roland Guenin and a musical item performed by a visiting Adventist youth choir from Japan.

The platform was adorned by a delightful display of produce destined for the needy of the local area.

During the service retiring Church Treasurer was presented with a gift in recognition of the many years of service he gave in the Treasury Department which has now been restructured with a much larger team.

The congregation also enjoyed a song performed by a visiting youth choir from Japan which was based on a traditional folk tune from Somerset.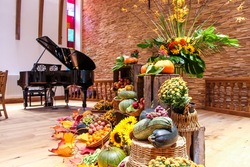 The platform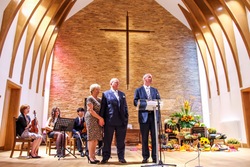 Roland Guenin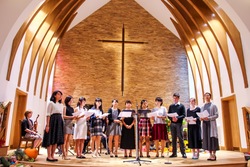 Japanese youth choir