Stanborough Park hosts the fifth Annual Christmas Picture Competition Award Ceremony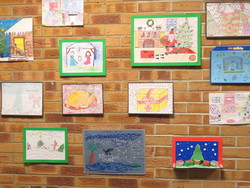 Stanborough Park Church's Community Chaplaincy Services continued for the fifth year running with the award ceremony for the Annual Christmas Picture Competition for local schools being held there on 7th December.

The criteria for competition entries was that they should be a Christmas scene in any medium chosen by the children – paint/crayon/poster/collage – but were not to include any computer work or enhancement. Children aged from 4 to11 years from four primary schools submitted entries which were displayed around the walls of the Sycamore Room in The Stanborough Centre before the ceremony began.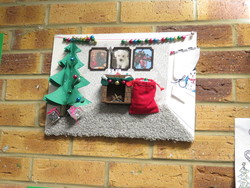 There were 6 winning prizes: 1st, 2nd and 3rd for the competition which was divided into two age groups: 4-7 and 8-11 years. In addition to these 14 minor prizes were presented in the 'Commended' and 'Highly Commended' categories to encourage more children to enter the competition. The schools attended by the main prize winners Primary and also received a cheque for £100 from Senior Minister Pastor Jacques Venter.

The competition was organised and sponsored by the Co-op and Enoch Kanagaraj, a Co-op employee based at the Abbotswood Park store in Leavesden and the Chairman of the church's Community Chaplaincy Service, has been the driving force behind the annual event.

Andy Tomlinson, Area Manager for Co-op stores, congratulated the winners and spoke of the company's commitment to helping local communities and charities through its membership scheme; nearly £1100 has been raised in the last three months alone for three deserving causes in the local community.