God and Your Brain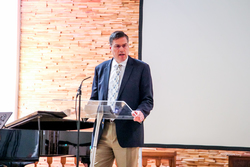 Can your perception of God literally shape your brain? Dr Timothy R. Jennings believes so. Dr Jennings is a psychiatrist, master psychopharmacologist, lecturer, and author of multiple books including the "The God Shaped Brain." Over the weekend of May 25-26, he shared his insight into God and the brain with the Stanborough Park church. This was his first time lecturing in the UK, and he attracted visitors from other churches in the area, including non-Adventist churches.

Basing his series of four lectures on content from his books, Dr Jennings began the weekend on Friday by explaining God's original design for humanity. He explained how the human mind was designed to operate and what happens to cause pain, suffering, and illness through believing lies about God.

His second lecture, on Sabbath morning, delved into how changing our view of God transforms our lives, examining the connection between belief and physical and mental health. He explained how our beliefs genuinely shape our brain wiring, our physical health, and even which genes are turned on or off. Thus, he challenged the congregation to re-examine their view of who God really is.

In the third session, Dr Jennings presented a fix for failing families. He discussed four factors for promoting family wellness—1) We must really know God; 2) Healthy relationships require healthy people, and healthy people have governance of themselves; 3) People need a Godly vision for themselves and their families; and 4) We need to create an umbrella of love in our families, where everything covered in love and seen through eyes of love.

On Sabbath afternoon, Dr Jennings presented the final session covering what happens to the brain as we age. He identified risk factors that accelerate the aging process and shared practical advice from evidence-based lifestyle factors and non-drug interventions to help slow down the aging process and prevent dementia.


At the end of each session, he included a time to answer questions from the audience.

One of the attendees was a sports coach and personal trainer, Jason, who said, "It was refreshing to hear the health message delivered with biblical reasoning and scientific research to back it up. I also liked that he was very realistic in the question and answer sessions. For example, he was asked if chocolate was healthy. He answered 'Yes,' but immediately qualified that it was only true of the kind of chocolate most people don't want to eat—i.e. without sugar or milk!"

Afterwards, in an interview with Vanesa Pizzuto for Adventist Radio London, Dr Jennings explained what had motivated him to write "The God-Shaped Brain."

"Over the course of years, as a clinical psychiatrist, I discovered that many of my patients had views of God that insight fear, anxiety, and worry," Dr Jennings explained. "With advances in neuroscience, we've been able to research the effects different God-concepts can have on the brain. I wanted to understand the principles involved that can help my patients, so I researched and wrote the book so that people can understand the view of God that is healing and the ones that are hurtful."

Dr Jenning's presentations from the weekend can be found on the Stanborough Park church website and YouTube channel.

His interview with Adventist Radio London will be available on their website adventistradio.london.

Dr Jenning's lectures and written material are also accessible on his website, www.comeandreason.com.